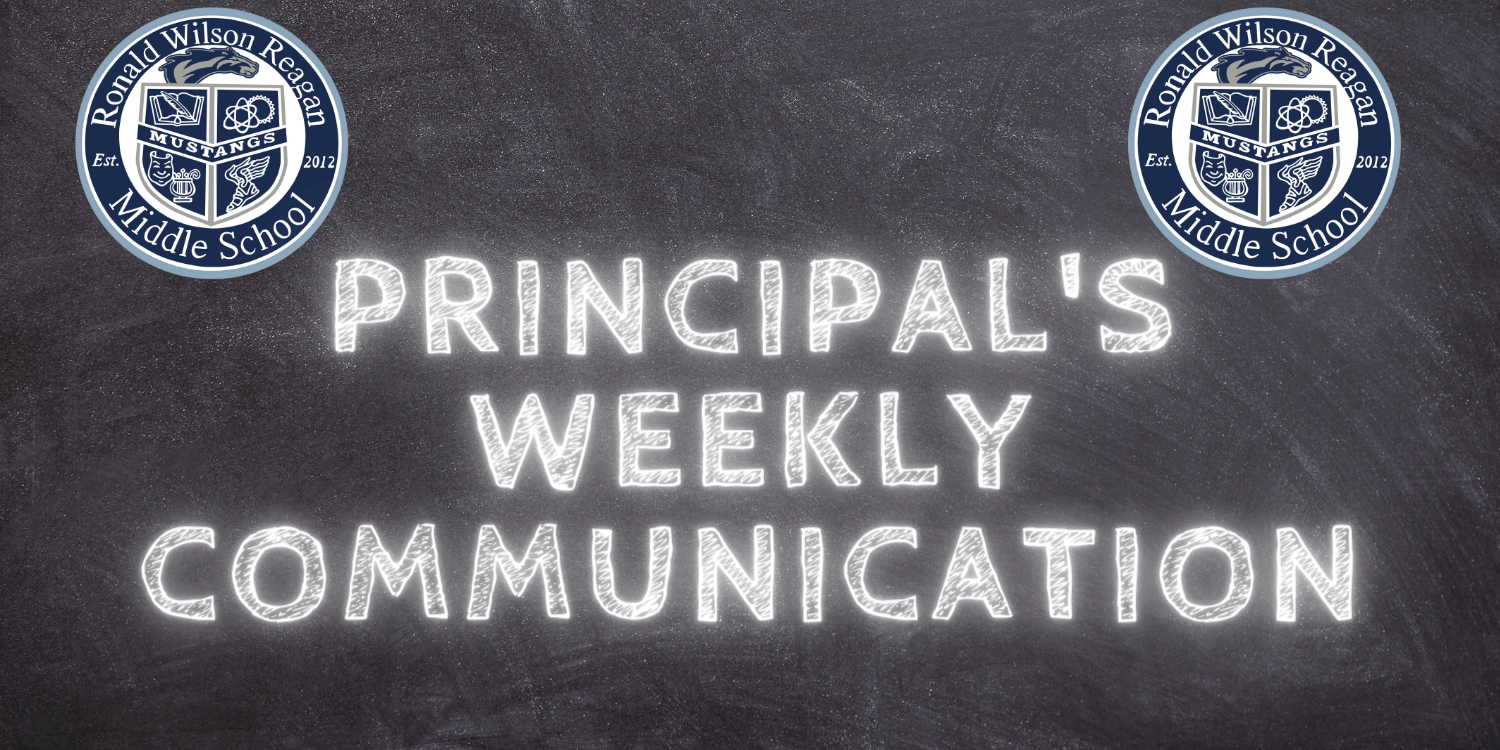 Ronald W. Reagan Middle School
15801 Tanning House Place, Haymarket, VA 20169
P: 571-402-3500
ronaldreaganms.pwcs.edu
Christopher D. Beemer, Principal



October 1, 2023
Dear Ronald Reagan community,
Here are the great things happening at our school this week:
Security Screening System Recap
We had a very successful first few days using the Safety Security Screening (Evolv) system. Please remind your students to remove laptops, eyeglass cases, umbrellas, and binders to pass around the system when entering. Items such as water bottles and musical instruments need to go through the screening system.
Optional Device Insurance - Last Chance
We have already had several students bring us devices that are damaged; everything from broken screens to lost chargers and accidental damage. Please consider buying the device insurance. The insurance covers unlimited repairs or replacements with no deductible for one year on a school-issued device. The insurance cost is $29.95 for the full year, which may be significantly less than repair or replacement costs without insurance. For more information, please click here.
School Pictures - Repost
School pictures will be taken on October 5 and 6. Please dress to impress!
Virginia Growth Assessment
The Virginia Growth Assessment (VGA) for math will be administered on October 3rd. You can learn more about this assessment here.
7th Grade Hearing and Vision Screening
We are conducting our hearing and vision screenings for 7th grade students during PE on October 10 and 11. Please click here if you'd like to volunteer to help. If you have any questions, please email our nurse, Mrs. Deem here.
Fall Fest – October 6
Come join us for Fall Fest on October 6 from 5:30 - 7:30pm. There will be fun, games, and delicious food!   Get tickets here! Sign up to volunteer here!
After School RRMS Events
Monday October 2 - Boys Soccer vs. Bull Run, Girls Volleyball vs. Unity Braxton
Tuesday October 3 -  After-school tutoring - Activity buses run at 5:00pm - Football vs. Marsteller
Wednesday October 4 - Soccer vs. Marsteller
Thursday October 5 -  After-school tutoring - Activity buses run at 5:00pm
Friday October 6 - Fall Fest - 5:30-7:30
Breakfast with the Principal Event
Come connect with me over coffee and a donut! On Friday, October 6, we will hold our first "Breakfast with Beemer"
from 9:00 – 10:30am in the school library. If you plan to attend, please click here to let us know so we can purchase
enough food and beverages.
Front Office Cut-Off Time – 2:30pm
The front office is especially busy at the end of the day. Our front office secretaries are trying to coordinate with  Transportation, compile last-minute announcements, and help students with various requests. We cannot  accommodate  requests for student pickups after 2:30pm. Please help us by coming to pick up your child before  2:30pm.  
Achieving Excellence Together,
Chris Beemer
Principal
~~~~~~~~~~~~~~~~~~~~~~~~~~~~~~~~~~~~~~~~~~~~~~~~~~~~~~~~~~~~~~~~~~~~~~~~
Past Reagan Roundups can be found below.